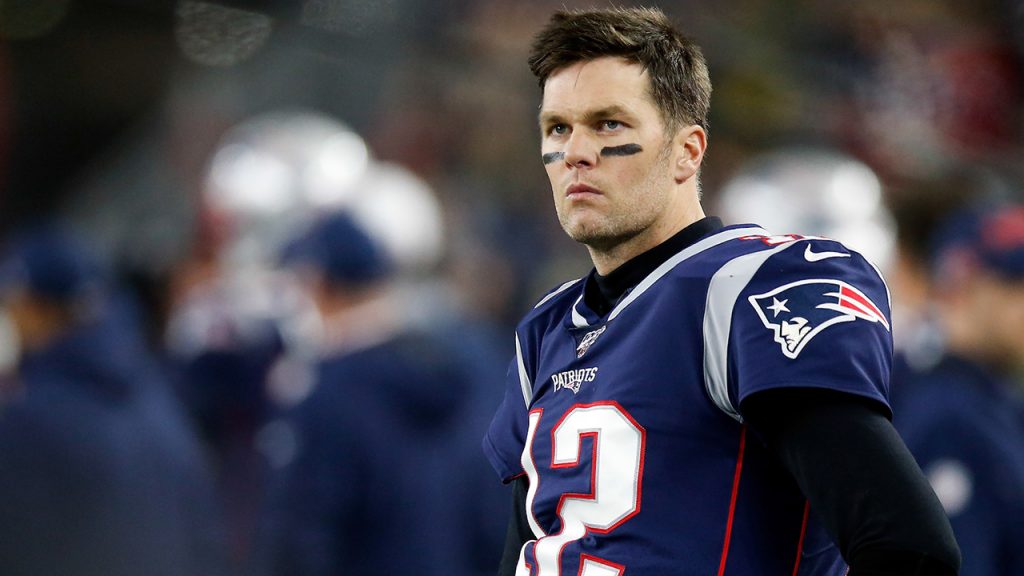 NCAAM teams jockeyed for tournament position, LeBron and Zion duked it out on Sunday night, and Terrific Tom became the story at the 2020 NFL Combine. Check out what happened in sports!
Weekly Sports Update – March 2nd Edition
Brady Talk at the NFL Combine
Last week, collegiate players ran the 40-yard dash, the shuttle, and tried to bench press their way up NFL Teams' Draft Boards. The yearly NFL Combine took place with most of the buzz centering on the size of Heisman Trophy winner Joe Burrow's hands. Burrow has small hands.
Will that hurt Burrow in the Draft? How can it not!
All kidding aside, nobody got more buzz, save for Burrows hands and the 10-digits on them, then a player named Tom Brady. If that name sounds familiar, it should. No, Terrific Tom didn't decide to re-enroll in Michigan and try to do the whole Combine thing over again.
Brady has yet to tell teams what his free agent plans are. That got every squad in the NFL up in arms. Who cares about Burrows hand size or Tua's knee, and ankle, and hip, and whatever else he's injured.
This is Tom Brady and rumor has it he's been in constant contact with…wait for it…Antonio Brown. No kidding, dudes and dudettes. The GOAT, supposedly, wants to play wherever AB plays.
Guess the Raiders are off the list. But you know who isn't? The L.A. Chargers. We recently published a blog about Terrific Tom taking his 6 Super Bowl rings to mighty LAC. Brady and AB and Keenan Allen and Melvin Gordon behind a decent offensive line spells Super Bowl. If I'm Tom and Giselle, that's the way I'm thinking.
In a Close Second at the NFL Combine…
The Cowboys are ready to give Dak $33 mil a year. If they don't sign Dak, they will franchise him. That means Prescott stays with the Cowboys. Good move. Quarterback is the most important position on the field.
Also, the Saints signed Drew Brees but that's happened every offseason for a while. Crazy, right? Who would have thought that Brees stays with the Saints and Brady heads out of New England? Right now, it's looking that way.
LeBron Outduels Zion in Lakers-Pelicans NBA Game
On Sunday, 35-year-old LeBron James posted a massive 35-points, 13-asssists, 12-rebounds triple-double that pushed King James and the Lake Show past Zion and the New Orleans Pelicans 122-114.
Zion played great. The Next Coming dropped 35 onto the Lakers. Williams shot 12-of-16 from the field. He converted 11-of-13 free throws. LeBron was so impressed, he and Zion hugged it out at center court after the game. Although Williams had 6 turnovers, he did score the most he's ever scored in an NBA match.
And, Zion did it against one of the top squads in the league. Zion's play has helped the Pels to 8 games below .500. The former Duke star has had his ups and downs this season. But there's no question he's the sandwich, drink, and bag of chips.
Real Madrid Bests Barcelona in the Clasico
Although Gerard Pique disagrees, Real Madrid showed this past Sunday that it's back to being one of the top soccer clubs on the planet. Per Pique, a Barcelona player, the current Real Madrid side is one of the worst he's faced.
Maybe, Real got into a time machine, heard what Pique said, and then decided to play the Clasico. Real Madrid dominated Barca 2-0. So, if Pique truly believes that either he was in a different game, or he thought, "Let's give these guys a win!"
Pique was right about one thing, Real wasn't playing their best heading into the match. But Real got the win. It wasn't even close. Also, the victory put RM a point ahead of Barcelona on the La Liga Standings.
So, here's the deal, Gerard Pique. If what you're saying is true, Barca had better win La Liga this season. If Real takes it, you owe your rivals an apology.
Kansas Jayhawks Leap to #1 in AP Top 25 Poll
The Kansas Jayhawks are back to where their fans always expect them to be, ranked first in the nation. And, it's not even close. Rock Chalk Jayhawk is a unanimous number one. Kansas has won 14 in a row. They beat Kansas State in their last win.
Heading into the final week of the regular season, nothing appears capable of keeping the Jayhawks from the overall 1-seed. Even if Rock Chalk falters in next week's Big 12 Tournament, they should get the overall number one.
No team has played as consistently as the Kansas Jayhawks. They gained revenge over Baylor and showed against K-State that bygones are bygones. The first Kansas-Kansas State battle looked like one of those WWE Friday Night Smackdown events. Both teams acted like gentleman in the rematch.
After Kansas beats TCU and Texas Tech this week, they'll enter their conference tournament the hottest team in college basketball. This could be Rock Chalk's season.
A lot remains to be decided, though. San Diego State is on the outside looking in. The Aztecs have a small chance of grabbing a 1-seed. The teams in front of them must falter and even then, it's hard to see a squad like Kentucky not leapfrogging the Aztecs.
Kentucky could take that final 1. If the Wildcats win out, including beating Auburn and/or LSU in the SEC Tournament, Coach Cal's squad figures to push SDSU to the side.
Baylor has now lost 3 games. The Bears battle Texas Tech and West Virginia in their final 2. Also, they must get past Kansas in the Big 12 Tournament. None of that will be easy. Right now, it sure appears as if Kentucky has the inside track to join Kansas, Dayton, and Gonzaga in the 1-seed club.
Have a great week!